Background
An advertising campaign by the GLBT Health Access Project was launched in May 1997. This groundbreaking campaign was designed to combat homophobia in healthcare. Titled "Deserves the Same Care," the campaign featured three ads that appeared on bus and subway lines throughout the Boston metro area and in newspapers statewide. The ads carried the tagline "Homophobia in Healthcare is Unhealthy," and sought to raise awareness about barriers to health care access for GLBT people. Stickers were also produced bearing the same tagline.
In 2004 we added three more posters to this series, empahsizing elders and transgender individuals. In addition, we also added a sticker that reads "Transphobia in Healthcare is Unhealthy."
How do I get the materials?
If you are from Massachusetts, posters and stickers can be obtained for free by going to the Massachusetts Health Promotion Clearinghouse.
If you are from outside Massachusetts, please go here to order posters directly from us. We are happy to send them out of state, but ask that postage and handling charges are paid by the recipient. They are also available for download as a pdf file (see below).
Other Materials
In addition, be sure to check out the Community Standards of Practice for Provision of Quality Health Care Services for Gay, Lesbian, Bisexual, and Transgendered Clients. This is a concrete and useful tool to see how anyone can make their agency or company more welcoming!
All posters and stickers are shown below. There are six different posters and two stickers. You can see an enlarged version by clicking on the desired image. We have also made each image into a .pdf file for free and easy downloading.
To view pdf files, you will need the Adobe Acrobat Reader. If you do not have this program, click here to download it for free.
The stickers (each measures 2"x3"):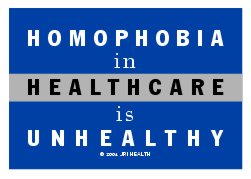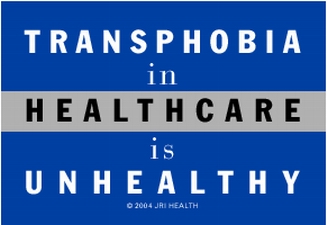 Download as pdf Download as pdf
The newest poster series (each measures 12"x18"):
Download as pdf Download as pdf
The original series:
Download as pdf Download as pdf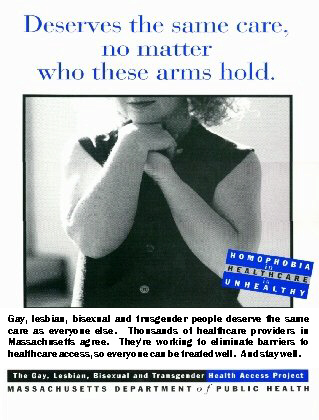 Now that you've seen them, do you want to order some?
To let us know what you think about the campaign, or for further information, e-mail us or call (617) 988-2605.